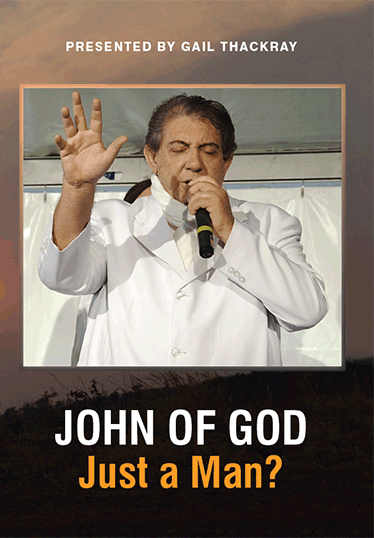 About Gail Thackray's tours to John of God
I take groups of my clients to Brazil to see John of God. People often report this is a life changing experience. You are invited to join our group and experience a beautiful 12 days in Brazil
For more informaton and other dates please go to this page
Special "John of God" Article in Newsweek Spirtual Living!
Do I need to wear all white, including underwear? And what about foot wear, handbags and purses etc?
The Entities have requested that we wear all white. We do not have an explanation though some feel that it is so that the Entity (John Of God incorporated in spirit) can read your energy. We follow as we are asked by the Entities, so out of respect please wear all white. Underwear is easily available in white and you should certainly try to obtain these items if you can. In addition white foot wear is preferable and cheap white sneakers are quite acceptable. Any accessories are preferable in white also. If you do not have the means to get completely white clothing then please come in cream or light beige. We will have a coat check for coats and other items that you do not wish to take with you.
Will I actually get to meet John of God?
As the people arrive for the day, they will be assigned into two groups. The first group will pass in front of John of God in the morning and will meditate in the afternoon. The second group will pass in front of John of God in the afternoon and will meditate in the morning. People will be taken in single file in front of John of God. As you pass in front of John of God it will be very quick but very powerful. You will not be given answers to questions. Occasionally he will stop people who need additional healing or to talk to some (through a translator). Even if John of God does not stop you the healing work that you have asked for is being done. Sometimes you may be selected by John of God to go straight into the room for a spiritual intervention. Do not feel if you were selected and did not actually pass in front of him, that you have received less than others. To be chosen for a spiritual intervention is the greatest gift you can be given.
Is the energy the same as in Brazil?
The medium Joao (John of God) checks the energy the day before the event. He spends a lot of time making sure the energy of the event is perfect. On each session of the event John of God goes into incorporation at the start of the session. This means he goes into a psychic trans and an Entity or spirit is within his body for the session. The Entity may change during the session also. When John (or Joao in Portuguese) is at rest he is called The Medium or Medium Joao. When he is incorporated with an Entity he is called John Of God (Joao De Deus in Portuguese) or The Entity. The entities that incorporate in Brazil are the same ones that incorporate at the live events. Additionally other entities or healing spirits (some say thousands) are within the rooms doing the healing work. The event is organized to flow in exactly the same way as the Casa in Brazil. All the entities that work within the body of John of God and those that are present in the rooms are of the highest and purest light. Therefore there are no negative energies or spirits. Many people receive their healing during mediation or just being in the energy of the event. The experience from the last events showed us, that only high spirits like Dr.Augusto, King Salomon, Dom Ignacio, Jose Valdevino show up at the event. Sometimes the energy during the events is even higher than in Brazil.
If I have a Spiritual Intervention (invisible surgery) will I miss some of the event?
The Entities have made changes for the live events. In Brazil if you receive a spiritual intervention you must remain in your room for 24 hrs. At the live event you are only required to go to your room and rest for the remainder of the day. Therefore if you were in the morning group and received a spiritual intervention in the morning, you will need to go back to your room and rest and you will miss the afternoon session. Do not feel like you have somehow missed out on the meditation part. To be chosen for a spiritual intervention is the greatest gift you can be given and the healing will continue in your room. If you are in the afternoon session and receive a spiritual intervention you will return to your room for the rest of the evening but can return the next morning (if you have registered and paid for the next day.) In Brazil if you are chosen for a spiritual intervention you are usually asked to come back the following session to receive the intervention. At the live events if you are chosen for a spiritual intervention, usually it will occur at the time you are chosen.
What if I receive a Spiritual Intervention (invisible surgery) and I have to travel?
The Entities know if you need to leave right after your surgery and do not have time to rest. In this case you will be given the spiritual protection to fly or drive home, but you must go straight home to rest.
Could I receive a physical surgery?
The Entities do not do physical surgeries outside of Brazil. All "surgeries" are spiritual interventions or invisible surgeries. The Entities tell us that even in Brazil the Spiritual Interventions are equally as powerful as the physical surgeries. Only a small percentage of people are given such physical surgeries in Brazil and they are upon the person's request and often because the person feels they need a physical intervention in order to believe. The Spiritual interventions are conducted in the same way as at the Casa in Brazil. You will be taken into a room as a group and asked to close your eyes, place your hand over your heart (or where you feel you need the healing the most) and meditate. Some people feel the presence of beautiful spirits working on them. Often you receive a profound sense of love.
How many things can I ask to be healed?
In Brazil it is slightly different. The people write down their requests (and translators are available to translate these requests into Portuguese). A person is encouraged to ask for no more than three requests at a time. At the live event you may receive a healing for as many things as you wish. These requests are not written on paper and given to John of God, as in Brazil. You are encouraged to write your list and keep it in your pocket or handbag, but you will not give it to the Entity. Or you can simply hold your requests in your mind. You can request many other things as well as physical healing. You may ask for help with your business, finances, relationships and emotional and mental healing. You may ask for spiritual enlightenment. You may also request (in your mind or on your list) to receive anything else you have forgotten that would be in your highest of good. Or you may ask for a broad healings, such as; all physical, emotional and spiritual healing. The entities are listening and they understand your requests.
Do you have the "1st Time Line" and the "2nd Time Line" and the other lines?
For those of you that have been to the Casa in Brazil, you will be familiar with the organization of the lines. For instance if you have never been in front of John of God, and have never received herbs that someone got for you for a distant healing, then you would stand in the 1st Time Line. If you have seen John of God or received the herbs you will stand in the 2nd Time Line. (Going on someone's crystal bed does not count as being in front of John Of God). At the live event we will have three lines – 1st Time Line, 2nd Time Line and Revision Line (for those seeing John Of God for the first time after 8 days have passed since they received a spiritual surgery, even if it was from a distance. This does not include people who just received herbs.) Most people will be entering in the 1st Time Line. After you have checked in at registration you will be given a ticket to enter the line which is right for you. There will be people to assist those who are unsure if they should go in a different line than the 1st Time Line. This is different from whether you have been placed in the morning or afternoon group to see John of God and the lines do not have a particular order as to who is seen first.
What else is there to do? Are there different events going on, on different days?
From a structure point of view, each day will be relatively the same. Each day the group will be divided into those who go in front of John of God in the morning and those who go in the afternoon. So if you are attending multiple days you will have an opportunity each day. There will be speakers on the main stage and speeches may be slightly different each day but all will be about the Casa, people's experiences with John of God and Casa meditations. There are not different speakers talking about different subjects. These people are mainly there to help you to understand the process and to be open and ready to accept the work of John of God. We will have beautiful musicians who's music is featured at the Casa and again this music is intended to inspire you spiritually and guide you into relaxation. So what would be the reason to go on multiple days you may ask? Actually the spiritual insights and the healing that you receive is what varies from day to day. People who have been to the Casa in Brazil will explain you could spend months immersed in this energy and it never become boring. Do not come expecting to be entertained with something different each day. Come with an open heart to discover what his hidden within you and for this you could spend a lifetime.
Will I receive herbs or blessed water?
In Brazil as you go in front of John of God to receive a healing you will often be prescribed herbs. If you have a spiritual intervention, you will always receive a prescription for herbs. These herbs, at the Casa are made from Passaflora and have no medicinal effect. Everyone receives the same herbs however the entities infuse them with energy that is specifically for you. Because of the different regularities around the world at the live events the Entities use blessed water instead of the herbs. The blessed water is your connection to the Entities. This enables the Entities to work on you energetically through the water even after you return home. This water is locally bottled water that John of God has blessed for the spirits to work through. It is available for about $3 a bottle. Everyone who receives a spiritual intervention must drink this blessed water. Anyone who passes in front of John of God, is recommended to drink the water for your healing process. You are welcome to purchase additional bottles for friends and family. It is offered very inexpensively to encourage people to drink lots and take this water home. If you are going home by the airlines, you will need to place the bottles of water in your checked baggage. If you are restricted on how much water you can take, you can extend your blessed water by placing a few drops in regular water.
Can I bring photos of others?
Yes, you may bring photos of others. Just as in Brazil, there will be several prayer triangles in the halls where you can place your photos and your requests. After the event all these photos and requests will be transported to the Casa. You will not be able to present your photos individually to John of God as you can in Brazil. You may however hold them or have them in your pocket or purse as you pass by John of God or during a Spiritual Intervention. It is then recommended that you bring blessed water to those people. It is recommended that on the back of your photograph that you write the person's name, date of birth, address and for what they wish the healing for.
Can I bring children?
It is not recommended to bring small children to the event unless they are coming to receive a healing. Much of the event will take place in silent meditation or with quiet contemplation. Most children would get bored at the event and children can be disturbing to others. You are here to receive the energy and to participate, if you are attending to small children this will distract from your experience. Check with your hotel if you need child care. Of course children who are there to receive a healing are very welcome and you are welcome to leave your seats to calm your child to avoid disturbing others. Children under 12 are free and do not need an entrance ticket but they must be accompanied by a paying adult. Children 12 and older require an adult ticket.
Can you accommodate people in wheelchairs, walkers or those who are very frail?
We will have disabled access and support staff to assist. We will have additional wheelchairs available. The halls are quite large, so for those that used both a wheel chair or walker, a wheelchair is recommended. We will have some volunteer doctors and nurses, however this is not a medical operation and you should take all measure to care for your own medical needs.
I am just the caregiver for a participant in a wheelchair, do I need to pay as well?
Yes, all adults and persons over 12 attending are counted as participants and must have a fully paid entrance ticket.
Should I take my medications when I am attending?
Please be advised that John of God and the Casa make it very clear that you should continue to take all your regular medications and continue any treatment you are receiving from a doctor. Spiritual healing should never be a substitute for your medical care and the Entities can also work along side your doctor.
Will you offer crystal bed sessions?
Yes. There will be approximately 25 crystal beds available from 7 am to 10 pm on each day. The sessions will be $30 for 20 minutes and you will be able to purchase tickets at the crystal/book shop. If you are not familiar with the crystal beds, these come from the Casa in Brazil. You will lay on a small bed or cot with crystals hanging above you. The crystals have colored lights shining through them and they will be pointing at your chakras. This treatment aligns your chakras. People often feel rejuvenated after a session. Some people receive insights and visions on the bed. Other's receive physical healings. This is another way for the Entities to give you spiritual healing.
Will you sell crystals from the Casa?
Yes. We will have a selection of crystals from the Casa. These are all blessed by the entities (John of God incorporated with spirit). These carry the energy of the Casa and many believe they are much more powerful than regular crystals. Most crystals are polished quartz crystals though other types may be available. The size varies. Most will be available for between $25 and $150 with a few larger ones being offered. You can use them to cleanse and energize your space, or for healing on yourself or others. We are please to announce that we will have a few MEDIUMSHIP crystals available. These are crystals that are very carefully selected by John Of God and they usually come from much deeper mines than the regular crystals. These are recommended only for people doing energy healing treatments on others, those that seek a high level of spiritual enlightenment or those with extremely difficult health issues. These come in pairs of a male and a female. If you would like a pair of these crystals you will pay at the shop but you will receive them directly from John of God who will choose your air and energize them. There will only be a very limited number of these mediumship pairs and the cost is $1,200 a pair. Prayer triangles, rosaries, books, DVDs and other items from the Casa will be available. We will take major credit cards, US and Canadian dollars. Additionally ATMs are available in the lobby.
Can we share a Three Day Pass?
No people cannot split the days and share a pass. A Three Day Pass is for one person attending all three days. For example if one person wishes to attend on Friday and another one on Saturday and Sunday, they must buy tickets for those individual days. One person must buy their Friday pass and the other person must buy a pass for Saturday and Sunday.
Can I get a group discount?
If a guide or group organizer brings 15 people or more they will receive a free pass for themselves. They will receive the same pass as the 15 paid passes. For instance if a leader brings 15 people with Three Day passes, the leader will receive a free Three Day Pass. If a leader brings 15 people with Day passes, the leader will receive a free Day Pass. If the guest are some day passes and some Three Day passes, a free Day Pass will be issued. In order to receive your free ticket. Email the names of the 15 people that have paid in your group to us through the Contact Page. After we have verified their payment we will issue your free ticket.
If I am coming in for three days, should I come in the day before and how long do I need to recover?
Depending on where you are coming from and how much rest you normally need, it is recommended that you arrive on Thursday evening as the event will open at 6 am on Friday. Unless you plan to sightsee or need additional rest you should be able to leave
Monday morning, even if you received a spiritual intervention the day before.
Do we need volunteers?
All volunteers have to be approved by the Casa. In addition we only consider people for volunteers who have either been to the Casa in Brazil or have volunteered at another John of God live event. If you qualify and would like more information please contact us through the Contact Page. We do need people who own Casa crystal beds who would be willing to bring them to the event (there is a revenue share). If would like more information please contact us through the Contact Page. You may apply to be a medium in the current rooms, only if you have Casa experience. As a medium you need to register as a fully paid participant before contacting us to be considered as an anchor medium.

What if I buy a ticket and cannot attend?
You may give or sell your ticket to another person. If you do so please make sure they know the name of the person the ticket was issued to, just in case we need to validate the ticket. All ticket holders (even if they receive the ticket as a gift) are expected to follow the rules of the event. Therefore if you give your ticket to someone please make sure they understand the rules of the event. Scalping (selling of the ticket from March 13-17 on or near the Metro Convention center) is strictly prohibited. If you become unable to attend due to illness or unforeseen circumstances and you prefer you may receive a partial refund: please call (818) 897-4493. Ticket purchases will be refunded less a 24% processing fee. if refund request is made on or before March 9th 2013. Refunds will not be given after this date.