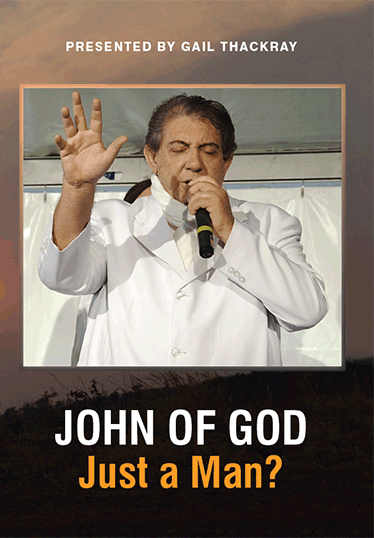 About Gail Thackray's tours to John of God
I take groups of my clients to Brazil to see John of God. People often report this is a life changing experience. You are invited to join our group and experience a beautiful 12 days in Brazil
For more informaton and other dates please go to this page
Special "John of God" Article in Newsweek Spirtual Living!
Tickets prices are for a full-day admission and include lunch with blessed soup.
Each day's session is from 8:00 am – 5:00 pm
(These times are approximate and depend on the direction of spirit.)
6 am – Doors open
8 am – First session begins
12 pm – Lunch and blessed soup
2 pm – Second session begins
The event is split into a morning and an afternoon session with a luncheon provided in between. As people arrive they will be directed into two groups, those that arrive first will be directed to the group that will go in front of John of God in the morning, the other half will sit in mediation in the morning and go in front of John of God in the afternoon. In the afternoon those that went in front of John of God in the morning will sit meditation in the afternoon. Everyone will have the chance to go in front of John of God one time per day. When it is your turn to go in front of John of God you will be directed into a line (first time line or second time line or revision line).
Each day the program or schedule will be the same. Your own personal experiences may be very different. You will hold in your mind what healing ( physical, emotional, spiritual help) you would like to receive. If you are attending multiple days you may wish to hold different intentions each day.
Although we know you are here to go in front of John of God you will also be receiving healing energy while you are in meditation in the main hall. During your time in the main hall there will be several inspirational speakers and wonderful musicians that are there to help prepare you and guide you through the experience.
Speakers will be guiding you through your experience at the Toronto John of God live event. You will hear stories from the casa, as well as directions to help prepare you as you go in front of John of God.
Gail Thackray: author of John of God: Just a Man and host of the DVD. Gail will be talking about her experiences with John of God at the Casa, guiding you through the event experience and leading meditations. Gail is based in Los Angeles and she takes groups to Brazil from all over the world, her next trip June 11th – 22nd . Website: GailThackray.com
Norberto Kist: Norberto is a dear friend of John of God and the main speaker on the stage at the Casa. Having worked closely with the medium for almost 30 days, Norberto has many healing stories and experiences to share. The Entities or spirits who work through John of God ask that Norberto comes with them from Brazil and speak on stage as he brings an essence of the energy of the Casa.
Bob Dinga and Diane Rose: Bob and Diana are an open-hearted and joyful couple who have been facilitating tours to the Casa since 1999. On stage they will be leading meditations and telling their inspiring stories. Bob shares his miraculous recovery from near-blindness and encourages people to always maintain hope and a positive attitude. Diana's soft and loving energy adds to the peace and harmony helping people process their experience with John of God. Bob and Diana are based in California. Website:www.miraclesofjohnofgod.com
Susie Verde: Susie is a native Brazilian, now living in Boulder, CO, USA. She is a medium of the Casa and also an authorized guide since 2005. She is a therapist and is now working on her first book about the Casa of Dom Inacio. John of God often invites her to talk on stage about her experiences at the Casa. Together with her husband Gurudev, she organizes a weekly Casa inspired meditation in Boulder and also bring groups from the US to Brazil. Website: www.JOGhealing.com
Beautiful music will set the tone for the event and allow you to be open to receiving your healing.
Kana: Kana is a unique expression of divine beauty, intelligence, and grace. Her generosity of spirit combines with the power of her pure, rich, velvet voice, to offer her audience a transformative musical experience. Her exceptional talent and musical perspective suggest a new genre of music that can only be called "transcendental." Kana encourages her audience to "Go deeper in the listening and you will create a space for your own inner voice to provide you with wisdom and guidance." Working with veteran record producer, Paul Karasik, Kana's songs of peace, love, and healing have been stunningly captured in her latest album, Miracles.
Diego Coppola: Volunteer staff at the casa, Diego leads the team of volunteers at the Toronto event. Diego works closely with John of God as a translator at the Casa and when he travels. Diego lives in Abadiania and he and his wife Sonia run Abadiania Web portal, a resource site designed to help you plan a visit to see John of God. Their website helps you maintain the feeling of connection to Abadiania before or after your visit. You can find a crystal bed practitioner near you. You can stay in touch with current activities in Abadiania and quickly make arrangements for a visit. Website: abadianiaportal.com
Heather Cumming: Heather is based between Connecticut and Abadiania. Heather has been a guide of the Casa de Dom Inacio for many years. She has traveled extensively with John of God, as his translator, and will be his translator at the Toronto event. She has written the best-selling biography John of God, The Brazilian healer who touched the lives of millions. As a guide in Brazil, Heather's intimacy with John and the spirits that work with him will bring an additional level of depth to your journey. In Brazil she will guide your healing process and take care of all the complex details so you can just focus on what is important. Website: www.healingquests.com
Josie Ravenwing: Josie will be working in the current room, leading the prayers. Author of The Book of Miracles: The Healing Work of João de Deus. Josie is one of the first guides bringing groups to the Casa, since 1998. She speaks Portuguese and so is able to translate. A medium of the Casa and a spiritual and healing practitioner herself for many decades, she also shares rich perspectives that help participants make the most of the healing opportunities provided by John of God. Josie is based in Florida. Website: http://www.JohnOfGod-brazil.net
Rosary Harites: Rosary will lead the Spiritual Intervention room with beautiful prayers. Rosary has lead the prayers at the Casa for many years and John of God requests that she travels with him to keep the beautiful energy.
Sean Durkin: Will be giving you instructions and guidance after receiving a spiritual Intervention. Sean is American living in Abadiania. "Son" and Medium at the Casa since 2004. Sean's working principle is, per the entity Dr Augusto – "Whatever you do, do with love." Sean has two decades of spiritual healing experience, including Spiritist Light-Body Infusion. He also applies 25 years experience providing support to substance abusers, their friends and family in recovery. Scheduled tours and flexible schedule arrangements. Also offers 12 Steps and Discerning God's Will using Ignatian Practices. Website: www.iletgo.com
Martin Mosqueira: Martin has been a friend and translator for John of God for many years and John of God requests that he travels with him. Martin will be acting as a translator for John of God at the event. Martin and his wife Fernanda own and operate the Pousada (hotel) Irmao Sol, Irma Lua (Brother Sun Sister Moon) in Abadiania. One of the largest Pousadas known for its beautiful garden and Patio.
Dr.Patricia L. Bell began her service to the Casa in April of 2006 when she was invite to join the "Circle of Love" at the Atlanta" John of God Event" The miracles at that event and many trips to the Casa has blessed her with becoming a Medium and Guide to the Casa. It is through these profound spiritual encounters that have changed the lives of the people she knows and has worked with over the years. With a grateful heart she welcomes the opportunity to be of service in Toronto as well as in Brazil. Please contact her at patriciabell.net. Blessings to all of you.
Rev. Jude Smith: Jude is an Interfaith Minister and spiritual teacher, authorized Casa guide, and the Executive Director of the Center For Authentic Living in Rhinebeck, NY. She is especially well suited to those who identify with being spiritual but not necessarily religious. Her groups tend to be people who are interested in exploring the deepest questions of who we are, and who see spending time with John of God as part of their spiritual journey. Jude brings a profound understanding of who we are as spiritual beings, and warmly supports group members in exploring those truths. Next Casa trip: April 7 – 21, 2013. www.CenterForAuthenticLiving.org
Vanessa Duffy is a loving and compassionate guide, leading small groups to John of God in Brazil since 2009. Vanessa is Canadian and is based out of Waterloo, ON, a short distance from Toronto. Vanessa first travelled to John of God in April 2003 for healing and knew she had found her spiritual home. Vanessa creates a safe and loving space for her groups, and leads with joy and love offering personal and inspiring stories of healing. Contact Vanessa at info@vanessaduffy.com, call 1-519-721-5448 and visit www.vanessaduffy.com.
Ananda Shakti is gifted and highly skilled yoga teacher, askashic record karmic reader, intuitive healer, and musician who is dedicated to a genre of music she calls "Soul Songs", music and words, intuitively received that support deep healing. She is the founder of Sananda Classical Yoga which brings ancient wisdom to modern life and Art of Life, karmic life readings and healings, which offers cellular healing. Ananda is a Guide for John of God's Casa in Brasil. Her compassionate and fun loving nature and dedication to each individual getting the most of their healing journey to the Casa facilitates a profound support for those who travel with her. Her next pilgrimage is in August 2013. www.sananda.ca
Barbara Brodsky: Barbara is a Medium of / Daughter of the Casa and an authorized Casa guide since 2005; see http://cosmichealingmeditation.com/. In Ann Arbor, MI, she is guiding teacher of Deep Spring Center,www.deepspring.org Since 1989, Barbara has been the channel for the Entity, Aaron, and, with him, offers meditation retreats and workshops worldwide. Barbara's book, Cosmic Healing; A Spiritual Journey with Aaron and John of God, released March 15, 2011 by North Atlantic Books, speaks of her healing journey and the Casa.
Amy and Markus Koch: Markus and Amy are Casa guides who are sensitive and accommodating to individual needs and provide a safe and supportive space for spiritual inquiry and healing. They share a healing practice in SE Michigan and also use a Crystal Light Bed from the Casa. More information can be found on the web at www.guidesforjohnofgod.com. Next trip to Brazil is May 13-25th, 2013.
John Orr: John has been a Casa Guide since 2006. For further information please seehttp://www.vipassanahealing.com/. John is a former Buddhist Monk ordained for eight years in Thailand and India. Since 1980 he has been leading Insight (Mindfulness) Meditation retreats in the United States and abroad. He is the guiding teacher of the New Hope Sangha in Durham, NC. www.newhopesangha.org. Next trip to Brazil is July 28-Aug 10, 2013
Connie & Daniel Price: Connie and Daniel are approved Mediums and Guides of the Casa. and have guided people to the Casa since 2005. Daniel is a Ph.D. psychologist in private practice. They serve as co- pastors ofCorinthian's Center for Healing & Spiritual Growth, Jackson, MI. "We have both experienced profound healing at the Casa and love guiding people to understand the processes." email: cdprice333@gmail.com Visit our websites:www.healingbrazil.net – www.johnofgodinbrazil.net