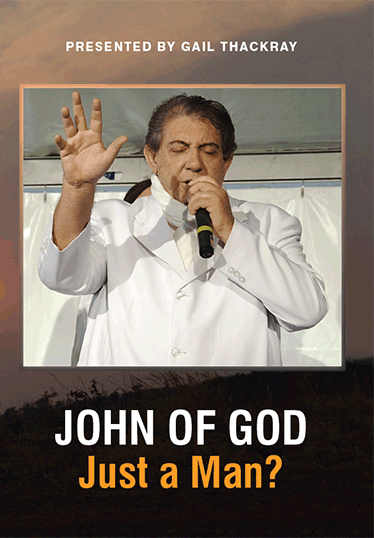 A beautiful high-quality film about the work and life of John of God, it starts with one woman's personal journey, as she travels to The Casa, the healing center of John of God, in Brazil. Gail Thackray, the host of a spiritual TV series, initially thinks her visit is one of professional interest. She is soon told by the spirits, "You are here to be healed."
As Gail shares this journey with us, we experience miraculous healings, paranormal activity and astonishing psychic events that occur daily in the work of John of God, the trans-medium who allow spirits to take over his body and heal people. We get an intimate look at John of God, the man born Joao Teiseira de Faria. We learn the story of his early life, the first "incorporation" and the mission of this man today as he talks openly in emotional interviews.
Strange and wonderful events seem to happen while shooting the movie. Who is really directing this? Somehow the spirits seems to be in control of the film and one even shows up on camera. But when the film is shown, something even more miraculous happens. People start to receive healings from the movie. Is the energy of John of God so powerful it actually transmits through the screen?
[Editor's Note: Please be aware that some of John of God's healings involve surgeries, with some graphic footage.]
Instructor/Host: Gail Thackray
Directed by: Harald Wiesleitner
Video Language: English
- See more at: Gaia TV